Gateway DC
GATEWAY DC is an innovative and unique state-of-the art park and pavilion in the heart of the St. Elizabeths East campus.  The pavilion is designed to provide a venue for casual dining, a farmers market, and other weekend and afterhours, community, cultural and arts events.
PARK AND PAVILION, Gateway DC is a city green space and pavilion with fantastic amenities and opportunities that allow for a wide range of magnetic events to occur.
WELCOMING COMMUNITY, Gateway DC is proud of where it stands in the center of Ward 8, where it can welcome visitors from across the city with dynamic entertainment and retail offerings.
FUN PROGRAMS, the pavilion is regularly activated with retail, community and opportunities for fun– featuring local retailers, restaurants and more.
---
Vision
INNOVATIVE FOOD AND ENTERTAINMENT VENUE
Gateway DC is a multipurpose interim –use pavilion that will provide space for community events, including farmers' markets, and food vendors in the center of one of the District's food deserts.
HOST CREATIVE, UNIQUE AND FUN PROGRAMS!
Gateway DC hosts a range of exciting programs throughout the year! This includes concerts, free movie nights, a Winter ice slide, pop-up shops and a Whole Foods Market the first Saturday of the month.  Come have fun at Gateway DC!!
CLEAR COMMUNITY CONNECTIONS
Even in the logo, "G8WAY DC," the pavilion's identity reflects its close ties to the Ward 8 community.
MAINTAIN OPERATIONAL SUSTAINABILITY
Through rental fees and programming partnerships, the District is create a self-sustaining financial model that allows the District to leverage private investments to support on-going programming
Spaces
ENCLOSED AREAS

Conference Room |  450 SF | 50 person capacity
Café Are | 1,000 SF | 150 person capacity
NON-ENCLOSED AREAS
Green Roof | 21,000 SF | 1,000 person capacity
Covered Pavilion | 16,300 SF | 1,500 person capacity
Lawn Area |  2,500 person capacity
Photos of the spaces can be found here:
Description and Features
OPEN-AIR MARKET AND PAVILION AREA
Gateway DC features a beautiful 16,300 SF open-air market area that provides space for over 50 vendors and over 10 food trucks at curbside.
Gateway DC is currently seeking vendors in the following areas:
Artistic Vendors (art, jewelry, furniture, etc.)
Natural Products (hair, vitamins, etc.)
Children's Products (learning tools, books, etc.)
Apply to be a vendor by submitting the following application form to Gateway.DC@dc.gov. [Include vendor application link]
ENCLOSED AREAS
Gateway DC also features an enclosed flex conference and café area, developed as part of the pavilion at the request of local residents to allow the facility to be used throughout the year for community meetings and entertainment events, including family game days, summer camps, pop-up cafes and other exciting events.
ROOFTOP AMPHITHEATER
The Gateway DC rooftop creates usable green space that is fully accessible to the public.  The amphitheater holds over 1,000 people and is perfect for concerts and other outdoor events.  Check out the amphitheater and the spectacular views of both the East and West Campuses from our amphitheater!
ADDITIONAL SITE FEATURES
Preserved "Reading Tree" at south end of pavilion
Educational Ecosystem/Bioretention Terraces at north end of pavilion
Significant amounts of seating (fixed, moveable) throughout entire site
Highly sustainable design, which includes features such as roof plantings that reduce heat island effect and reduce demand on mechanical systems in the enclosed portion, mechanical systems rely heavily on natural ventilation and rainwater harvesting features (an on-site cistern capture runoff and supplies the entire site's irrigation demand)
Past Programs and Existing Partnerships
With the opening of gateway dc in October 2013, the St. Elizabeths campus opened for the first time in history to the general public!!   Gateway DC hosted over 20,000 visitors in its opening 6 months at a range of events, including:
Whole Foods Fresh Foods Market – First Saturday of Each Month
A Wider Circle "Pop-up" Dress for Success Shop – First Saturday of Each Month
GatewayDC Summer Film Series
Free Concerts
Free Business Symposium
Resource Fairs
Workforce Development Programs
Financial Literacy Programs
Free Movie Night Series
Fireside Chats and Tech Networking Events
Pop-up Tech Shop
We've established awesome programmatic partnerships, which have allowed the District to provide free and low-cost, public programs, exhibits and displays. Programming Partners include:
Whole Foods
A Wider Circle
D.C. Commission on Arts and Humanities
D.C. Department of Small and Local Business
D.C. Office of Planning
D.C. Department of Employment Services
D.C. Workforce Investment Council
D.C. Department of Insurance
D.C. Motion Picture Television Division
Office of the Deputy Mayor for Planning and Economic Development (Tech Sector)
Microsoft Corporation
Get Involved
RENT SPACE
Visit stelizabethseast.com/demonstration-center for information and competitive rates to rent space at Gateway DC.  Rental Rates can be found here:
APPLY TO BE A PROGRAMMING PARTNER
Apply to be a programming partner to offer exciting programs free and open to the public, display products, host a pop-up shop, and/or provide other unique experiences for Gateway DC visitors. The application for programming partners can be found here:
Current Programming
GATEWAY TO HEALTH – A series of events promoting wellness and healthy lifestyles.
Information on Gateway to Health Programs can be found here!
GATEWAY TO CREATIVE – A series of events planned to stimulate creativity and foster innovative ideas within Ward 8 and beyond.
GATEWAY TO SUCCESS – A series of events planned to help build professional skills and educate people interested in career growth and financial independence.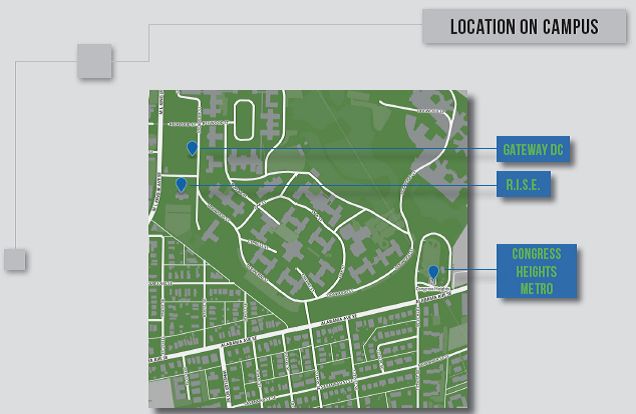 DRIVING DIRECTIONS
The address for Gateway DC is
2700 Martin Luther King Jr Ave SE, Washington, DC 20032 and for and the R.I.S.E. Demonstration Center is
2730 Martin Luther King Jr Ave SE, Washington, DC 20032. We are located at the 3
rd
Gate located on the campus St Elizabeths East.  The following directions are from the
National Mall
in Washington, DC.
Head south on 4th St SW toward Independence Ave SW
Take I-695 to Martin Luther King Jr Ave SE
Take the 1st left onto Independence Ave SW
Take the 2nd right onto Washington Ave SW
Slight right onto the ramp to I-695
Keep left at the fork, follow signs for I-295 S/Nationals Park/6th St and merge onto I-695
Keep left at the fork and merge onto I-295
Take exit 3B for Howard Rd toward Nationals Park/Downtown
Turn left onto Howard Rd SE
Turn right onto Martin Luther King Jr Ave SE
Destination will be on the right
Gateway DC:
2700 Martin Luther King, Jr. Ave., SE
Washington, D.C. 20032